Why Great Length Hair Extensions? Quality and History.
Great Lengths started in London back in 1991. Over twenty years later, Great Lengths can be found worldwide in over 50 countries and is still today the leader in the world of hair extensions.
The Great Lengths concept originates from the textile industry taking inspiration from the heat transfer system which bonded fabric to fabric on a molecular level; this was an attractive idea for Great Lengths who then started testing, and later adapting it to hair extensions, creating and patenting a method that molecularly bonded extensions to natural hair aiming to an extremely resistant but gentle attachment.
In addition to the bonding investments, Great Lengths has developed its brand by giving priority to quality. Great Lengths hair is in fact treated with the same sophisticated method of cashmere and adopts its same concept of removing the pigments rather than breaking them up through the bleaching process which is certainly faster, less expensive but too aggressive.
Never before has this method been utilized for human hair processing and, coupled with the exceptional integrity of the Indian temple hair, it truly provides a reliable and unsurpassed hair quality, so good that the hair withstands the most rigorous of lifestyles including subsequent chemical treatments without color fading. Color fastness is a result of the cashmere process as color pigments find a proper space to occupy in the de-pigmented hair rather than just covering hair surface where bleached.
Great Lengths supplies incredibly healthy hair extensions, totally ethical, traceable and in a wide range of rich and vibrant colors which guarantee versatile satisfaction and creativity to you and to hair stylists.
Quality
Great Lengths stands for quality. Extensions are a major investment in yourself and only the best will do. Great Lengths insists on the highest quality hair and there is no better system for attaching the extensions.
Support and Products
Great Lengths has developed a full line of products that enhance and maintain your extensions while nourishing your hair. Extensions are an investment in yourself and using the proper products will maintain your investment.
SHAMPOO
ULTIMATE BLOND PROTECTION SHAMPOO with KERAPHLEX®
Ultimate Blond Protection Shampoo protects and nourishes blonde and colored hair in particular. The Kera-Protect complex strengthens your hair's structure, repairs any damage to your hair and protects the coloration. Your hair feels soft to the touch and looks wonderfully radiant. Thanks to its mild formula, the Ultimate Blond Protection SHAMPOO can be used daily.
COLOUR REFLEX SHAMPOO – Intensifies color brilliance
Colour Reflex is the special shampoo for color-treated, dyed hair, single hair, strands, streaked and bleached hair.
The cleansing substances are mild and do not reduce moisture. Amino acids make the hair silky, reduce tangles and static charging. GSP-T® protects against free radicals. The pH-value 5,5 is ideal for the scalp. Above all, however, SOLAMER GR8 prevents the destruction and bleaching of colors. This product gives you long radiance and exceptional shine again and again.
STRUCTURE REPAIR SHAMPOO – Nourishing care for stressed hair
Structure Repair Shampoo was specifically developed for dry, brittle, strongly stressed and unmanageable hair. The regreasing active substances clean your hair and scalp in an especially mild way. GSP-T® protects against free radicals. PRO-KERATIN supplies the hair with valuable regenerative substances, it repairs porous zones and gives your hair new elasticity and volume. Pro-Vitamin B5 ensures a healthy moisture balance in your hair and scalp. The pH-value 5,5 is gentle to your scalp.
DAILY MOISTURE SHAMPOO – Gentle daily hair care
The shampoo for gentle daily hair care. Daily Moisture is adequate for all types of hair, but especially for slightly dry tips and dry to slightly oily scalps. GSP-T® additionally protects against free radicals. AQUARICH® supplies valuable regenerative substances, gives your hair volume and shine and reduces static charging.
ALOE VERA balances moisture loss and gives your hair special silkiness and manageability. The pH-value 5,5 is especially scalp-friendly and gentle.
ULTIMATE BLOND PROTECTION CARE CONDITIONER with KERAPHLEX®
The Ultimate Blond Protection Care Conditioner is the ideal conditioner for blonde, colored and damaged hair. It repairs and intensively nourishes your hair, effectively offsets any moisture loss and leaves it feeling wonderfully smooth. Your hair will get back its healthy shine, leave you with healthy ends and you will be able to comb your hair perfectly too.
ULTIMATE BLOND PROTECTION CARE SPRAY with KERAPHLEX®
The Ultimate Blond Care Spray is the optimum addition to the Protection Shampoo. This multi-faceted protein-based system gets to work directly on your hair fibres. Your hair becomes much stronger and is provided with the moisture it needs. Thanks to its special color protection, your coloration is retained in your hair for longer, and its vibrancy will be visibly enhanced. The result is shiny hair, healthy ends and improved ease of combing.
VOLUME CARE MOUSSE – More volume and more elasticity
Foam invigorates. The Volume Care Mousse cares and vitalises at the same time. It gives the hair even more long-lasting volume and elasticity. And importantly, it offers an extremely effective hold, even in a humid climate. A special ingredient makes the hair more manageable when styling and the hair stays in an optimum shape longer after drying. The Volume Care Mousse is alcohol-free and suitable for all hair types.
HEAT PROTECTION SPRAY – Keeping you cool in any heat!
The new Heat Protection Spray was specially developed for use in everyday styling. The protective film effectively keeps away heat from straighteners, curling irons and hair dryers. It prevents loss of moisture and specifically counteracts stressful environmental influences. The new Heat Protection Spray thus ensures the soft hold that healthy, shiny and naturally beautiful hair needs.
CONDITIONER 60 SEC – Fast acting conditioner
The ideal conditioner for dry, stressed and damaged hair. In only 60 seconds, your hair is repaired and stays treated for 60 hours! The creamy emulsion does not weigh your hair down and rinses out easily. AQUARICH® supplies the valuable regenerative substances for more shine and volume and counteracts static charging. ALOE VERA balances moisture loss and gives your hair a silky feel. JOJOBA-oil supplies your hair and scalp with in-depth moisture and protects
HAIRMASK EXTRA RICH – Comprehensive regeneration for your hair
The hair mask Extrarich is a rich intensive conditioner for very dry, brittle, stressed and unmanageable hair. For example after summer vacation with high UV-radiation, this conditioner rebuilds the structures of your hair. The main active ingredient is PRO-KERATIN, which closes gaps with amino acids and proteins that are similar and identical to those of your hair. GSP-T® additionally gives protection against free radicals. Pro-Vitamin B5 ensures a healthy moisture balance in hair and scalp.
ANTI TAP WATER – Save the best for last
Anti Tap Water is the ultimate finish for basically all hair treatments: also after hair extensions or the removal of strands.
PANTHENOL supplies your hair with moisture and promotes flexibility. Liquid hair keratin replaces and rebuilds missing substance. BIOTIN promotes the natural balance and natural functions of the scalp and hair. GSP-T® provides protection against damages due to free radicals and environmental strains. The pH-value 3,2 contracts the scaly layer of the hair and preserves care substance like moisture.
PROTECTOR INSTANT CARE SPRAY – Spray for immediate treatment
The new spray is adequate for all types of hair and makes your hair manageable and reduces tangles immediately. Ideal as a quick fix, especially for colored hair, because the conditioner stays in your hair. Curls and waves are reinforced. The protector protects against free radicals with GSP-T®, SOLAMER GR8 prevents the destruction and bleaching of colors. This spray contains substances similar to those in your hair increase its vitality and resistance. Cationic polymers prevent static charging.
Before and After: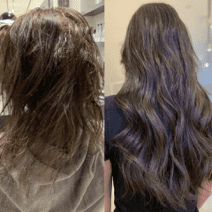 Here is Gwyneth Paltrow's glamorous look at the Emmy Awards created by Lorenzo Martin for Great Lengths Hair Extensions and Biolage. So beautiful!